EVERY CRISIS CREATES OPPORTUNITY, INCLUDING COVID-19.
And we have what you need to find opportunity now.
Life doesn't wait, and neither should your marketing. The communities that adapt and find new ways to connect with their markets are the ones that weather hard times and thrive afterwards. The research and history are crystal clear: those that market through downturns not only survive, but emerge stronger, retaining and enhancing their brand.
The challenges presented by COVID-19 are daunting and complex for everyone, but particularly for senior living communities. Now, more than ever, you need the Colorworks team of Senior Marketing Specialists who know your business and can connect you with prospects.
It's a time to be responsive and nimble, to understand concerns and address them with empathy, intelligence, and reassurance. We've got the creative energy and industry knowhow to make it happen for your community: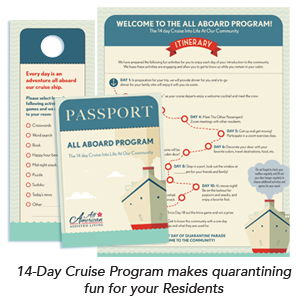 Promote fun and interactive transitions to safe residency using engaging campaigns, like our 14-day cruise
Project competence and safety in all messaging, reassuring prospects that their wellbeing and comfort are priority one
Include new products in your marketing mix, such as email communications to demographic lists used for mailings
Communicate clearly and effectively with prospects using direct mail, projecting your brand with confidence now . . . and into the future
Counter and overcome media confusion regarding senior living facilities with testimonials from staff and residents
Draw attention to your community with outdoor signs, banners, and yard signs
Send uniquely branded promotional items to your key prospects, keeping them engaged
Marketing doesn't stop because of COVID-19: it gets smarter and better.
Prospects need your services, and we have the tools and in-house resources to reach them. Reap the benefits of opportunity with the team of Specialists who know how to make it happen. Call us today to learn more!
At Colorworks, we're more than a marketing solutions firm—we're your business and leadership growth consultants.